Regular price
Sale price
$29.99 USD
Unit price
per
Sale
Sold out
Introducing Hacivaz, the solid fragrance that will instantly transform you into the coolest guy in town. With its unique blend of woody-citrus-sweet-earthy-fruity notes, Hacivaz will make you stand out wherever you go. Whether you're running errands or hitting the town, Hacivaz will have you feeling confident, elegant, and oh-so-irresistible.
At the heart of Hacivaz's magic lies a blend of bergamot, pineapple, and grapefruit. These crisp and tart scents instantly awaken your senses, leaving you feeling energized and rejuvenated. As you go about your day, the fragrance evolves to reveal a warm and woody base of cedar, oakmoss, and other elegant wood notes. Finally, the sensual scents of jasmine and patchouli bring a touch of seduction, making Hacivaz the perfect fragrance for any occasion.
But the benefits of Hacivaz don't stop at its delightful scent. Here are just a few reasons to try this amazing solid fragrance:
- With its compact and easy-to-use design, Hacivaz is perfect for anyone who needs a fragrance that can keep up with their busy lifestyle. Simply apply the fragrance to your skin, clothes, or even your hair, and you'll be ready to face the day.
- Unlike traditional liquid fragrances, Hacivaz won't spill or leak in your bag or pocket. This makes it an ideal fragrance for travel, work, or any other activity where you need to stay fresh and confident all day long.
So if you're ready to experience the ultimate in cool, elegant, and irresistible fragrances, give Hacivaz a try. You won't be disappointed.
View full details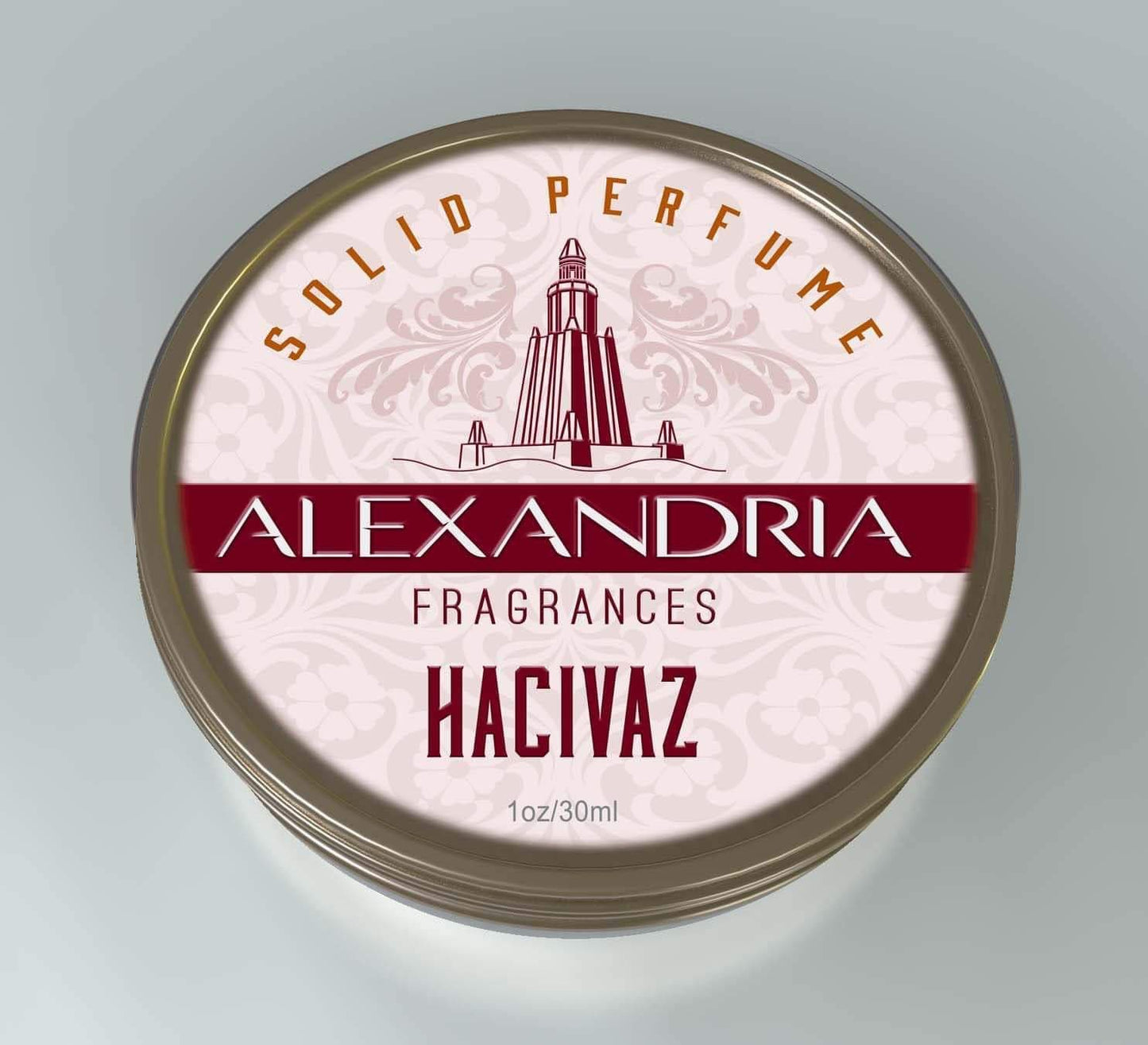 Description
In comes the coolest guy in town! He is athletic, elegant, just has that magical feeling where everywhere he goes he gets attention from all the ladies, everyone loves him, he does good deeds, saves cats from trees, dogs from the shelter and drives grandmas around to their doctors appointment. The perfect gentleman! That feeling when god shines down a bright light from the heavens and that angelical tune come on like " oooooh". This is Hacivaz. The fragrance that makes you feel god sent. Hercules has NOTHING on you! Crisp bergamot, tart pineapple, and alluring grapefruit take over your body growing your muscles instantly like a world champion body builder. The incandescent cedar, elegant woody notes and timeless oakmoss dress your body in the most luxurious tuxedo the world can provide. And finally the sensual jasmine and patchouli offer the greatest feeling of seduction to those that are lucky enough to get a whiff of you wherever you go. Too good to be true? Try it… You will not stop using this till its gone! Inspired by Hacivat.
Notes
Woody Citrus Sweet Earthy Fruity
02
May we suggest
Similar items
Perfumes and fragrances are one of the most popular gifts to give. They are not only a way to say I love you, but also the perfect way to make someone feel special.However, it can be hard to find the perfect scent for that special someone. That's why we have created a unique fragrance matching system that will help you find their perfect smell based on their selections.